Visit Dolphin Motorhomes now for some great offers on ALL remaining new Peugeot motorhomes. We have a total of 12 Autosleeper, Bailey & Elddis vehicles, all of which have been registered as demonstrators with huge savings.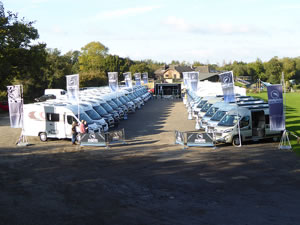 Please join us on Friday 3rd to Sunday 5th November at New Forest Water Park in Fordingbridge where we will be showcasing a large selection of new 2018 season motorhomes.

Can't make the NEC? Don't worry – we'll have 30 brand new 2018 motorhomes on display for you to peruse. The event is free! More details will follow but for now, please save the date!
You can help us to do well this time around too!
As soon as you have had your van over six months, you can fill in the form. It is for new or used vehicles purchased after 1 January 2014.
The survey takes about 10 minutes. We would be very appreciative if you could spare the time to feedback your thoughts.
Thank you!
The area outside the front of the showroom has also been landscaped.
We have also resubmitted a planning application to build a new three bay workshop and parts store, plus also includes an extension to our existing showroom. We are hopeful that these building works will be started before the end of the year and completed before March 2018.
Last weekend, Mike and Andra went to Southdown Way Camping Park in Hassocks, Sussex. They were joined by their families and had a fabulous weekend enjoying the sunshine and views. Read more about the campsite here.
Have you been somewhere recently that you would recommend to fellow motorhomers? Send us the information so we can share it. marketing@dolphinmotorhomes.co.uk.
Dolphin Motorhomes Hampshire
478 Bursledon Road
Southampton
SO19 8NH
T: 02380 406777
F: 02380 406888

Dolphin Motorhomes Dorset
Iford Bridge (Main A35)
Barrack Road
Christchurch
BH23 2QA
T: 01202 479444
F: 01202 474247

E: sales@dolphinmotorhomes.co.uk
W: www.dolphinmotorhomes.co.uk