It takes a lot of time and effort to arrange an event like that but seeing all of you there enjoying yourselves makes it all worthwhile. I would like to thank our team for all their hard work ensuring it ran so smoothly.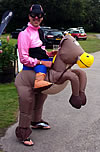 I am sure you will all agree Graham raised the bar by once again by dressing up - this time as a horse and a jockey! Quite an achievement! We are already looking forward to seeing what he can pull out the bag next year!
The charity horse race night was a huge success raising £1000 for the charity Dreams Come True which is just fabulous. Thank you to everyone who took part in that and helped reach such an amount.
From the bouncy castle and BBQ to the bingo and buffet, we tried to lay on a variety of events for you to enjoy. But we'd love to know what you thought of it all. If you could spare less than five minutes, we'd be really appreciative if you could fill in our online survey telling us what you liked and how we can improve it for you.
COMPLETE SHAMBA SURVEY

Have you been or are you going anywhere nice with your motorhome this summer? Send us some photos and we will put them on our website. The best photo will win a prize!
Kicking off the competition is Mr & Mrs Sharvill with a photo of their Auto-trail Navajo whilst travelling on the GrossGlockner pass in Austria. This was part of their trip around Europe - approx 3000 miles in 8 weeks!
Please email your photos to marketing@dolphinmotorhomes.co.uk to enter.

We are pleased to welcome Steve Barnes to our team. Steve will be based in the Southampton branch and comes with a wealth of experience from the Motorhome industry. He has been working in the Motorhome industry for over 15 years, starting his career as a valeter at the age of only 15, previously working for the Willis family. He has a real passion for the industry and regularly uses motorhomes taking his wife and four year old daughter Keira away on holiday.
He is a keen football player, playing regularly in a 7-a-side team but unfortunately supports Portsmouth FC. He lives in Westbourne, near Emsworth.

Dolphin Motorhomes Hampshire
478 Bursledon Road
Southampton
SO19 8NH
T: 02380 406777
F: 02380 406888
E: sales@dolphinmotorhomes.co.uk
W: www.dolphinmotorhomes.co.uk
Dolphin Motorhomes Dorset
Iford Bridge (Main A35)
Barrack Road
Christchurch
BH23 2QA
T: 01202 479444
F: 01202 474247
E: sales@dolphinmotorhomes.co.uk
W: www.dolphinmotorhomes.co.uk